Viaggio Culinario Da Roma A Milano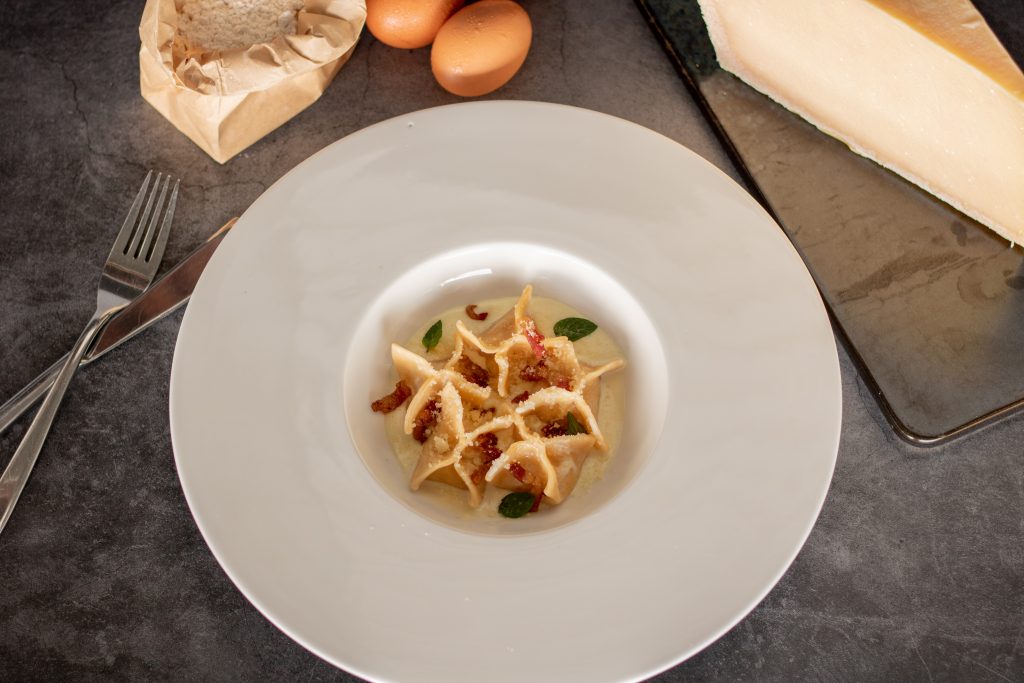 La Gritta presents: the iconic dishes of Italy
Rome is known to be the backbone of traditional Italian cuisine and Milan has been probably more avant-garde than the rest of Italy when it came to culinary trends.
Roman cuisine is known for fresh, seasonal and simply-prepared ingredients from the Roman Campagna.
Milanese Lombard cuisine presents a very varied culinary tradition: for first courses, the Lombard cuisine ranges from risottos to soups and stuffed pasta. 
𝐁𝐚𝐮𝐥𝐨𝐭𝐭𝐢 𝐃𝐢 𝐂𝐚𝐫𝐛𝐨𝐧𝐚𝐫𝐚 – 500 THB++
Homemade pasta filled with creamy egg yolks – Pancetta – Pecorino sauce

𝐑𝐚𝐯𝐢𝐨𝐥𝐢 𝐃𝐢 𝐌𝐚𝐧𝐳𝐨 – 590 THB++
Homemade pasta filled with Wagyu cheek – mushroom sauce

𝐑𝐢𝐬𝐨𝐭𝐭𝐨 𝐀𝐥𝐥𝐚 𝐌𝐢𝐥𝐚𝐧𝐞𝐬𝐞 – 540 THB++
Creamy saffron risotto – Gold leafs – Black caviar

𝐒𝐚𝐥𝐭𝐢𝐦𝐛𝐨𝐜𝐜𝐚 𝐀𝐥𝐥𝐚 𝐑𝐨𝐦𝐚𝐧𝐚 – 1,350 THB++
Veal tenderloin topped with sage and Parma ham – white wine sauce – mashed potatoes

𝐁𝐢𝐠𝐧𝐞' 𝐃𝐢 𝐒.𝐆𝐢𝐮𝐬𝐞𝐩𝐩𝐞 – 310 THB++
Deep fried choux pasta filled with custard – Berry sauce

𝐒𝐩𝐞𝐜𝐢𝐚𝐥 𝐂𝐨𝐜𝐤𝐭𝐚𝐢𝐥𝐬 𝐌𝐞𝐧𝐮
𝐒𝐛𝐚𝐠𝐥𝐢𝐚𝐭𝐨 – 250 THB++
Martini Rosso – Campari – Prosecco
Invented in Bar Basso in Milan, the Sbagliato cocktail was made by mistake when a bartender was trying to make a Negroni cocktail

𝐂𝐚𝐫𝐝𝐢𝐧𝐚𝐥𝐞 – 250 THB++
Gordon's Gin – Campari – Martini Extra Dry
Cardinale is a vintage Italian cocktail invented in Rome, sometimes classified as a descendant or a variation of Negroni and Americano

Price is subject to a 10% service charge and 7% VAT.