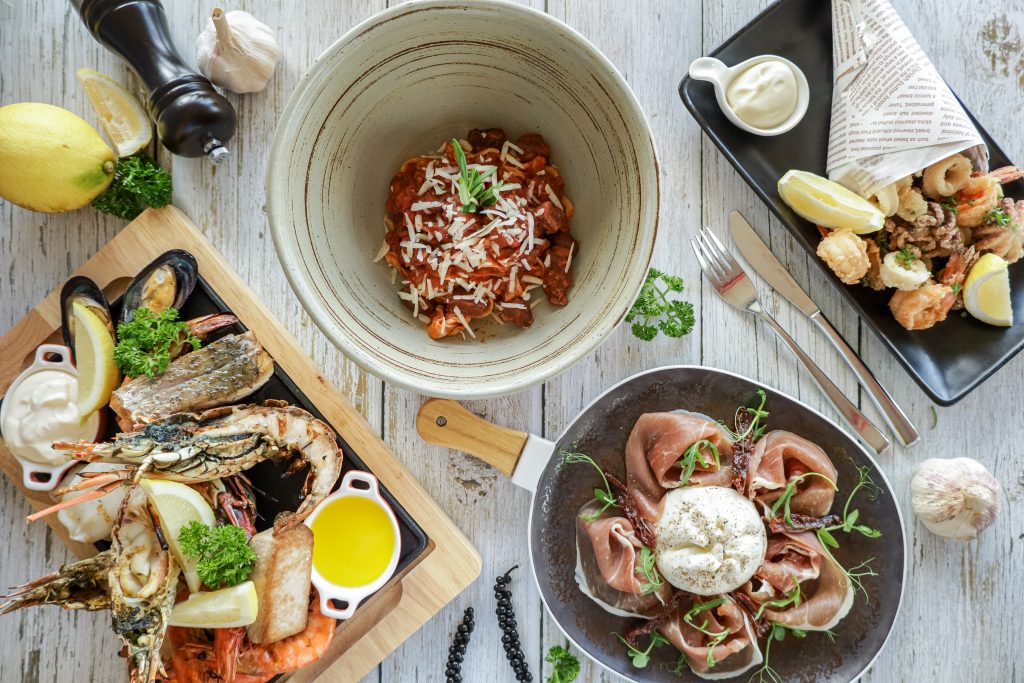 The Emilia-Romagna region is considered Italy's most exquisite, often dubbed "the food valley." Home to the oldest university in the world, the city boasts medieval and Renaissance art. The cuisine is one of the most varied and refined in Italy, where it plays host to the production of balsamic vinegar (aged in wooden barrels for at least 12 years), cheese (especially Parmigiano Reggiano) and the use of pork in cured meats, sausages, hams and salami. The most famous product from this region is prosciutto di Parma, a dry-cured ham with a sweet and delicate flavor.
ANTIPASTI
Frittura della Riviera – 470 THB++
Deep-fried prawns, squid, mussels and baby octopus served with garlic mayo
Burrata al tartufo e Prosciutto – 550 THB++
Truffle Burrata cheese, Parma ham, wild rocket leaves
MAINS
Tagliatelle al Ragu di cinghiale – 480 THB++
Homemade Tagliatelle pasta, slow-cooked wild boar ragout, Pecorino cheese
Grigliata di pesce alla Romagnola – 1,690 THB++
Mixed grilled seafood platter with ½ Phuket lobster, rock lobster, tiger prawn, white prawns, mussels, squid, tuna, white snapper and a side salad
RECOMMENDED WINE PAIRING
Ca dei Frati I Frati Lugana DOC, Lombardia
Aromas of mature pear, citrus and white spring
flowers form the delicately enticing nose. The savory palate offers gooseberry, white peach and juicy grapefruit alongside tangy acidity. It closes on a white almond note. It pairs well with soft cheeses, white and cured fish.
Bottle: 2,200++ THB
Glass: 490++ THB
Chrono Chianti Reserva, Tuscany
Wine with a lively red colour and an intensely vinous aroma. Dry and balanced on the palate, with a
harmonious, dry, savoury and slightly tannic flavor. It is particularly suitable for roast and grilled meats, game and stews.
Bottle: 1,800++ THB
Glass: 380++ THB
All prices are in Thai Baht and subject to 10% service charge and 7% VAT
---