Notable Italian Chef Joins La Gritta's Culinary Team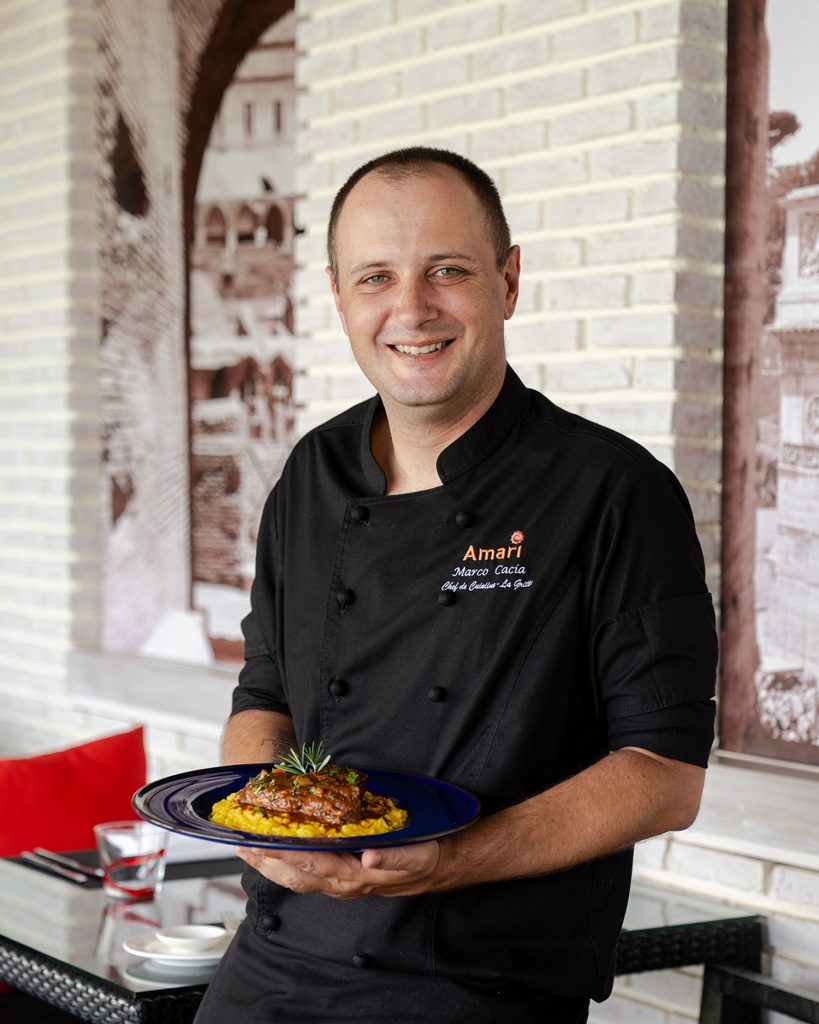 Phuket, Thailand – La Gritta is delighted to announce the appointment of Chef Marco Cacia as the restaurant's new Chef de Cuisine, who introduces innovation while maintaining Italian traditions. With an international culinary background spanning Europe, Australia and Asia, Chef Marco invites guests to discover the true essence of Italy.

Chef Marco, 40, formerly in charge of Western cuisine for five-star luxury resorts, is a native of Sicily. His hometown is the largest island in the Mediterranean Sea and renowned for its unique cooking styles reflecting its rich history and diverse cultures that influenced the island over the past two millennia. The cuisine of Sicily combines Italian cooking with influences from various cultures that have shaped the island's history, including Greek, Spanish, French, Jewish, and Arab.

Chef Marco respects the history of La Gritta's dishes as he experiments with new techniques to reinvent the menu. As a young chef at university, he studied at Alma, the most authoritative center for high education in Italian cuisine and hospitality internationally. Chef Marco trained under Gualtiero Marchesi, the world-famous Italian chef and founder of new Italian cuisine. Marchesi contributed most to developing Italian cuisine by creating the Italian version of French nouvelle cuisine.

"The ingredients I use come from Southern Italy, as my hometown is in Sicily. The olive oil is a crucial ingredient for our cuisine and the seafood is abundant in Italy's huge coastline. We have an exceptional meat cut, such as the tomahawk, T-bone and tenderloin, all imported from Australia and grain fed. At La Gritta, I balance local ingredients with our imported selections," said Chef Marco. "My favourite dishes are all kinds of risottos. They are mostly dishes from northern Italy, but I love to cook the risotto with meat, seafood and vegetarian."

After completing his Bachelor's degree in Tourism and Hospitality from the University of Messina and obtaining the Diploma de Cuisine from Le Cordon Bleu Culinary School, Chef Marco's European career began in Messina, Italy, as the Sous Chef of La Macina. From there, he ran successful Italian restaurants in Spain, London and Australia before relocating to Krabi, Thailand. He moved to Phuket in 2017 when he was appointed the Italian Chef de Cuisine to run Italian restaurants and steak houses for prestigious luxury resorts.

Chef Marco's career in five-star luxury resorts influenced his approach to service. "I enjoy meeting and cooking for my guests daily," he said. "I will train our team to cater to their needs and give them a personalised experience. The biggest challenge is to have guests from all over the world. They might be used to dining Italian food in a certain way, but here at La Gritta, we aim to give them only the most authentic Italian experience. Our view is so stunning that it will transport
them to Italy, even though they are in Phuket."

La Gritta is one of Phuket's most romantic Italian restaurants, featuring authentic Italian cuisine inspired by homemade recipes from all parts of Italy – from Lazio, the region that's home to Rome, to Lombardy in North Italy, famous for its risotto and cheeses. Savour quality ingredients from local and Italian farms and ocean-to-table producers. This traditional restaurant serves Italian specialties, gourmet pizzas, pasta and delectable desserts. The iconic dining destination offers informal, personalised service to ensure a memorable experience amid sunset views over Patong Bay.

A captivating journey for the senses continues with the secluded La Gritta Bar, an upscale bar famed for picturesque views of Patong Bay, enticing guests with authentic, Italian-inspired crafted cocktails and a discerning Italian wine list. Look forward to an evening of gorgeous sunsets while sipping drinks made from quality ingredients to capture Italy's essence.